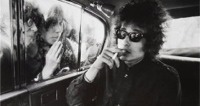 Dal 7 Febbraio è in vendita in Italia Chimes of Freedom, la compilation in quattro cd di cover di Bob Dylan realizzata per onorare il 50° anniversario della fondazione di Amnesty International.
Chimes of Freedom: The Songs of Bob Dylan Honoring 50 Years of Amnesty International, distribuito in Italia da Universal Music, contiene 73 registrazioni inedite di brani di Bob Dylan (l'edizione digitale contiene tre brani bonus) interpretate da oltre 80 artisti, tra i quali Adele, Bad Religion, Joan Baez, Dierks Bentley, Jackson Browne, Johnny Cash, Steve Earle & Lucia Micarelli, Marianne Faithfull, Bryan Ferry, Neil Finn with Pajama Club, Michael Franti, Angelique Kidjo, Diana Krall, Kronos Quartet, Lenny Kravitz, Bettye LaVette, Taj Mahal, Mariachi El Bronx, My Morning Jacket, Joe Perry, Pete Seeger Sinéad O'Connor, Rise Against, Carly Simon, Patti Smith, The Belle Brigade, Lucinda Williams ed Evan Rachel Wood.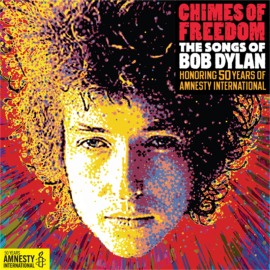 "Chimes of Freedom è veramente un piatto ricco. Questa compilation mostra il profondo attaccamento di generazioni di artisti verso la bellezza della musica di Bob Dylan e il loro entusiasmo nel sostenere i diritti umani. Speriamo che tutti i loro fan trovino la stessa ispirazione e s'impegnino insieme a milioni di attivisti nel mondo a proteggere i diritti umani ovunque siano violati" – ha dichiarato Helen Garrett, direttrice dei progetti speciali di Amnesty International.
Amnesty International ha ottenuto un grande e generoso sostegno internazionale da una serie di distributori di musica tra cui Amazon, Google Music, iTunes, Spotify, Starbucks, Independent Retail sector e molti altri. I brani della compilation sono già in programmazione sulle radio, sul satellite e su Internet.
Produttori esecutivi di Chimes of Freedom sono Jeff Ayeroff e Julie Yannatta, che ebbero lo stesso ruolo nella fortunata compilation del 2007 Instant Karma: The Amnesty International Campaign to Save Darfur, una serie di brani singoli di John Lennon reinterpretati da grandi artisti quali U2, Green Day e R.E.M.
Chimes of Freedom è dedicata alle migliaia di persone che nel mondo sono imprigionate o minacciate per la pacifica espressione delle loro idee. Tutti gli artisti, i musicisti, gli arrangiatori, gli ingegneri del suono, i produttori e i tecnici di registrazione hanno lavorato gratuitamente per sostenere la causa dei diritti umani.
Amnesty International vuole incoraggiare tutte le persone ispirate dalla musica di Bob Dylan a unirsi ai suoi tre milioni di soci nel mondo che svolgono azioni per proteggere i diritti umani, attraverso la firma degli appelli sul sito www.amnesty.it
Nel gennaio 1961, in un freddo e nevoso pomeriggio a Greenwich Village, un Bob Dylan 20enne, appena partito dal Minnesota, iniziava la sua carriera esibendosi in piccoli caffè. Pochi mesi dopo, l'avvocato inglese Peter Benenson a Londra lanciava la campagna da cui sarebbe nata Amnesty International.
Per mezzo secolo, Amnesty si è attivata affinché i diritti umani fondamentali fossero assicurati a persone che erano perseguitate e private della libertà in tutto il mondo. In questi stessi 50 anni, l'arte di Dylan ha esplorato e cantato l'angoscia e la speranza della condizione umana moderna.
Dal 7 febbraio sarà possibile acquistare nei negozi di dischi Chimes of Freedom, una raccolta di 76 canzoni emblematiche di Bob Dylan, prodotta con l'etichetta di Universal Record.
Oltre 80 artisti internazionali, del calibro di Patty Smith, Adele, Sting, Lenny Kravitz e tanti altri, hanno reinterpretano questi brani per celebrare il 50esimo anniversario di Amnesty International. Un gruppo eterogeneo non solo per genere musicale ma anche per età, dal 19enne Miley Cyrus ai 92 anni di una leggenda della musica folk come Pete Seeger, che ha registrato una commovente versione di "Forever Young" con un coro di bambini.
In diverse parti del mondo, migliaia di persone vengono imprigionate o minacciate solo per aver espresso pacificamente il loro pensiero o a causa del loro credo. Le parole e la musica di Chimes of Freedom sono dedicate a ognuna di loro!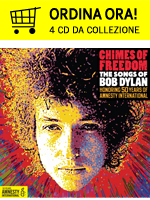 Chimes of Freedom: The Songs of Bob Dylan Honoring 50 Years of Amnesty International
la Tracklist completa:
Disc 1
01. Raphael Saadiq – Leopard-Skin Pill-Box Hat
02. Patti Smith – Drifter's Escape
03. Rise Against – Ballad of Hollis Brown
04. Tom Morello The Nightwatchman – Blind Willie McTell
05. Pete Townshend – Corrina, Corrina
06. Bettye LaVette – Most of the Time
07. Charlie Winston – This Wheel's On Fire
08. Diana Krall – Simple Twist of Fate
09. Brett Dennen – You Ain't Goin' Nowhere
10. Mariachi El Bronx – Love Sick
11. Ziggy Marley – Blowin' in the Wind
12. The Gaslight Anthem – Changing of the Guards
13. Silversun Pickups – Not Dark Yet
14. My Morning Jacket – You're A Big Girl Now
15. The Airborne Toxic Event – Boots of Spanish Leather
16. Sting – Girl from the North Country
17. Mark Knopfler – Restless Farewell
Disc 2
01. Queens Of The Stone Age – Outlaw Blues
02. Lenny Kravitz – Rainy Day Woman # 12 & 35
03. Steve Earle & Lucia Micarelli – One More Cup of Coffee (Valley Below)
04. Blake Mills – Heart Of Mine
05. Miley Cyrus – You're Gonna Make Me Lonesome When You Go
06. Billy Bragg – Lay Down Your Weary Tune
07. Elvis Costello – License to Kill
08. Angelique Kidjo – Lay, Lady, Lay
09. Natasha Bedingfield – Ring Them Bells
10. Jackson Browne – Love Minus Zero/No Limit
11. Joan Baez – Seven Curses (Live)
12. The Belle Brigade – No Time To Think
13. Sugarland – Tonight I'll Be Staying Here With You (Live)
14. Jack's Mannequin – Mr. Tambourine Man
15. Oren Lavie – 4th Time Around
16. Sussan Deyhim – All I Really Want To Do
17. Adele – Make You Feel My Love (Recorded Live at WXPN)
Disc 3
01. K'NAAN – With God On Our Side
02. Ximena Sariñana – I Want You
03. Neil Finn with Pajama Club – She Belongs to Me
04. Bryan Ferry – Bob Dylan's Dream
05. Zee Avi – Tomorrow Is A Long Time
06. Carly Simon – Just Like a Woman
07. Flogging Molly – The Times They Are A-Changin'
08. Fistful Of Mercy – Buckets Of Rain
09. Joe Perry – Man Of Peace
10. Bad Religion – It's All Over Now, Baby Blue
11. My Chemical Romance – Desolation Row (Live)
12. RedOne featuring Nabil Khayat – Knockin' on Heaven's Door
13. Paul Rodgers & Nils Lofgren – Abandoned Love
14. Darren Criss featuring Chuck Criss and Freelance Whales – New Morning
15. Cage the Elephant – The Lonesome Death of Hattie Carroll
16. Band of Skulls – It Ain't Me, Babe
17. Sinéad O'Connor – Property of Jesus
18. Ed Roland and The Sweet Tea Project – Shelter From The Storm
19. Ke$ha – Don't Think Twice, It's All Right
20. Kronos Quartet – Don't Think Twice, It's All Right
Disc 4
01. Maroon 5 – I Shall Be Released
02. Carolina Chocolate Drops – Political World
03. Seal & Jeff Beck – Like A Rolling Stone
04. Taj Mahal – Bob Dylan's 115th Dream
05. Dierks Bentley – Senor (Tales of Yankee Power) (Live)
06. Mick Hucknall – One Of Us Must Know (Sooner Or Later)
07. Thea Gilmore – I'll Remember You
08. State Radio – John Brown
09. Dave Matthews Band – All Along the Watchtower (Live)
10. Michael Franti – Subterranean Homesick Blues
11. We Are Augustines – Mama, You Been On My Mind
12. Lucinda Williams – Tryin' To Get To Heaven
13. Kris Kristofferson – Quinn The Eskimo (The Mighty Quinn)
14. Eric Burdon – Gotta Serve Somebody
15. Evan Rachel Wood – I'd Have You Anytime
16. Marianne Faithfull – Baby Let Me Follow You Down (Live)
17. Pete Seeger – Forever Young
18. Bob Dylan – Chimes Of Freedom